PASSION ICE CREAM
The BEST 6 Ice Cream In Alacati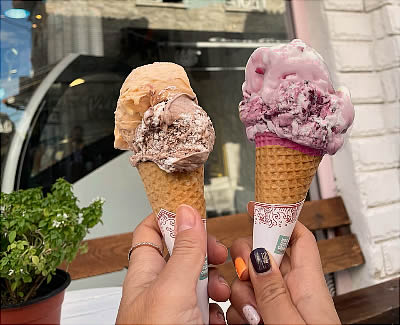 Passion natural ice cream, which is one of the favorite foods of the summer days, can be made in many varieties and with many flavors. You can crown your holiday in Alacati, Cesme with homemade traditional flavors. The best thing to do to cool off under the scorching heat at the beach during the day is to eat ice cream which is loved by almost everyone, according to your taste is the simplest with the aromas put into it. This is exactly why it is such a popular dessert.
FRESH PURE MILK FROM THE PENINSULA
But how about made with pure milk fresh only from the peninsula? Prepared with natural and pure milk from local farmers on the peninsula, this will make you forget all the ice cream you have eaten before. Mastic trees, which only grow in Greece and on the Cesme peninsula, are gaining popularity in the region. Flavored mastic gum are made with the gum obtained from these trees. Not only the trunk and leaves of the trees but also the soil smells like gum. Imagine that such an intense scent integrates with one of the favorite flavors. It comes across as very refreshing and fresh one and becomes one of the must-try.
FAVORITE 6 ICE CREAM
In addition to the gum mastic we mentioned above, Cesme has dozens of ice creams made from any fruit you can think of. All of them are made in the most natural ways, with fresh fruits. If you want, you can consume your ice cream in a cornet cone, in a cup, on top of a waffle or between wafers. There are many options available. Of course, there are some favorites of Cesme visitors. Cesme melon is a famous for its unique aroma that gives to traditional ice cream. That's why it has managed to become one of the favorite of many visitors. Black mulberry, another popular fruit of the Aegean and Mediterranean regions. The tastes prepared in accordance with the season of the fruit they contain is different and unique. Also, we strongly recommend strawberry, cherry, chocolate and lemon ones for you.
TRY WITH OTHER FLAVORS
Of course, ice cream isn't just eaten in a cup or cone. You can consume both these desserts and the flavored ice creams you want by putting it on top of the popular desserts of Alacati and traditional turkish flavors in Cesme, such as gummy pudding, white pudding with blackened surface (kazandibi) also known as caramelised pudding, and crumpets in thick syrup (ekmek kadayifi). You can be sure that they will meet your sweet needs. In short, if you come to Alacati, Cesme, do not leave without tasting the famous ice creams with their various flavors.