EXPLORE THE ALACATI 11TH TRADITIONAL HERB FESTIVAL (MAR 24-27, 2022)
ALACATI HERB FESTIVAL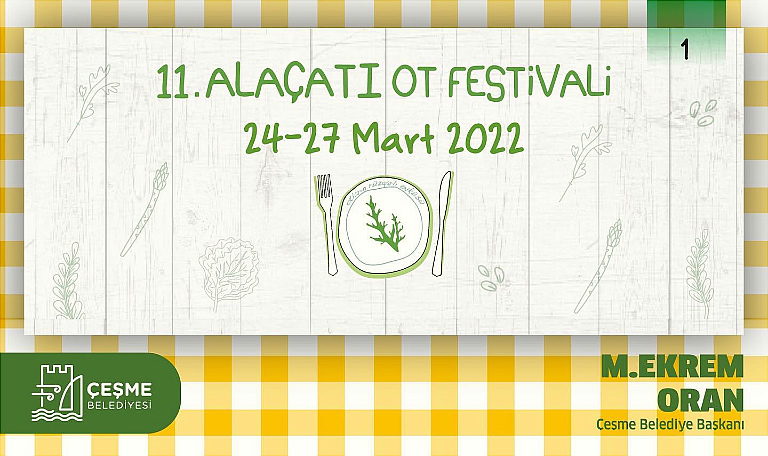 Alacati Traditional Herb Festival, which will be held for the 11th time this year, will meet with Alacati visitors between 24-27 March 2022. There will be many events such as concerts, cooking workshops at this festival. If you want to get to know and explore this town, which stands out with its tourism, with its vegetation, you are invited to this festival.
ONLY HOMEMADE FLAVORS
You will see only homemade flavors at Alacati Herb Festival. The freshest and most natural foods will accompany this festival. Tomato or pepper paste, cookies, pastries, cakes, stuffed vegetables with olive oil, jams are just a few of them. Save your food needs for this festival and find the closest to your taste by tasting all kinds of food. When it comes to Aegean cuisine, the first things that come to mind are various herbs, vegetables, olive oil and natural products. These products are such healthy and delicious that a festival is organized. Tourists from many countries both come to have a wonderful holiday in Alacati and spend their weekends to eat the blessings of Turkey's Aegean region, which has rich vegetation. If you want to fill your stomach with these delicious tastes, you should stop by here!
FRESH HERBS WHICH GROWN IN ALACATI
There are hundreds of grass varieties and endemic plants growing in Alacati, which has rich vegetation. This herb festival, which takes place with the theme of a different herb every year, will take place this year with the herb called Labada (Evelik), which is unique to Alacati, contains many oxidant and antibacterial properties and is beneficial for many diseases. The purpose of the festival is to introduce the fresh herbs which grow in Alacati, the benefits and uses of these herbs to all local people and tourists. We think that especially vegan and vegetarian people may be one of their favorite festivals. Here they can find many herbs and vegetables to suit their eating habits. In fact, everyone will find dozens of foods to suit their own taste on many benches. Perhaps you will place a very healthy product in your life by tasting foods you have never tasted before here. Maybe you haven't made enough use of these herbs of the Aegean region yet. But don't worry, you will enjoy all the fresh herbs and vegetables at this Alacati Herb Festival!
HANDMADE ARTS, GIFTS AND DECORATIVES
A festival with just herbs and food? Of course not. Many decoration items such as souvenirs, handmade artistic products, antiques, which are one of the indispensables of Alacati, also found a place in this festival. A bracelet, a magnet, a vase, or a set of coffee cups that you want to keep as a souvenir from your Alacati holiday and this festival will be a great gift for yourself. At the same time, many decorative products that you will buy for your loved ones will allow you to bring the spirit of Alacati to their homes.
See the another traditional popular alacati events: Alacati events and festivals