EXPLORE THE ALACATI 12TH TRADITIONAL HERB FESTIVAL (APR 27-30, 2023)
ALACATI HERB FESTIVAL 2023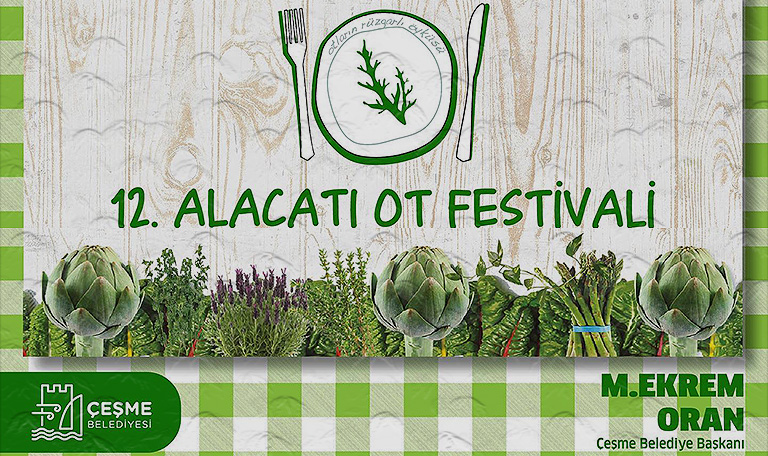 The Alacati Herb Festival 2023 is an annual event that takes place in the small town of Alacati, located in the Cesme district of Izmir province in western Turkey. The festival celebrates the culinary and medicinal herbs that grow in the region and attracts visitors from all over Turkey and beyond. During the festival, the town's streets are decorated with colorful herbs and spices, and visitors can sample traditional dishes made with local herbs and spices, attend workshops on herbal medicine and cosmetics, and participate in culinary competitions. The festival is usually held in the spring, when the herbs are at their freshest, and is a unique opportunity to experience the rich cultural heritage and natural beauty of Turkey's Aegean region.
2023 Alacati Herb Festival, The Municipality was announced the 12th of Herb Festival will be held from 27 to 30 April 2023.
FAMOUS VEGETABLES
Cesme artichoke is a type of artichoke that is grown in the coastal town of Cesme, located in Turkey. It is known for its tender and flavorful heart, and is often used in local cuisine. The Cesme artichoke is also popular for its health benefits, as it is rich in antioxidants and has been linked to improving liver function and aiding digestion. Another common vegetables found in the Aegean region may include tomatoes, peppers, cucumbers, eggplants, zucchini, fava beans, artichokes, spinach, and different herbs like oregano, thyme, and parsley. some of the most famous herbs in the Aegean region are oregano, thyme, rosemary, sage, and chamomile. Other herbs commonly found in the region include basil, mint, lavender, marjoram, and bay leaves. These herbs are often used in Mediterranean cuisine and traditional medicine for their aromatic, flavorful, and medicinal properties. You will see much more vegetables during in festival.
UNIQUE CONCERTS
Alacati herb festival 2023 is not limited to herb but also concerts. The concerts are live music performances that take place during a festival or a cultural celebration. These concerts are often large-scale events that feature a diverse lineup of artists and genres, designed to attract a wide range of fans. Alacati festival concerts can be held indoors or outdoors, and may feature multiple stages, vendors, and other attractions. You will be a unique and festive atmosphere that can make for an unforgettable music experience with Alacati Herb Festival 2023.
HANDMADE GIFTS FOR YOU
Handmade gifts are available during alacati herb festival 2023. Alacati handmade gifts are items that are created by hand rather than being mass-produced in a factory or using industrial manufacturing processes. These gifts can be anything from artwork, jewelry, crafts, textiles, or woodwork, to home decor or furniture. Our town handmade gifts are often cherished by recipients because they are unique, one-of-a-kind, and represent the care and love put into creating them. Furthermore, they tend to have a personal touch that is hard to find in store-bought products.
FESTIVAL PROGRAM
The Alacati herb festivals typically include a mix of traditional cultural activities and entertainment events. Cultural activities could include a displaying local crafts, culinary competitions, and showcasing local talent such as music and dance performances. Entertainment events could include carnival rides and games for kids, food vendors, and live concerts. Additionally, our festivals may offer educational events such as workshops on local history, agricultures, and other topics of regional interest. Official festival program will be here when available.
See the another traditional popular alacati events: Alacati events and festivals